One of the most exciting moments during pregnancy is when the parents-to-be discover the sex of their unborn little angel. Family and friends come from all over, and they are always looking for a way to be involved. What better way than with a gender reveal party?! You can share the joyful news with your loved ones and memorialize this significant milestone in your pregnancy journey.
How does it work?
Typically, an ultrasound is planned with your doctor, but instead of your doctor saying the sex out loud, they will write it on a piece of paper and seal it in an envelope. As soon-to-be-parents, you can hand this envelope to a family member or friend who has the insanely fun privilege of choosing how to reveal the sex to all the party guests. Should you choose to plan the party yourself, you can hand it to the baker who will make a special cake just for you with frosting of pink or blue, or the friend who is purchasing the gender reveal smoke or confetti cannons. Don't forget – Invitations will also need to be sent to get guests excited for the big news!
Time to Plan the Perfect Party!
Gender reveal parties come in all shapes and sizes. The most straightforward and obvious theme is something with Pink and Blue. Pink and Blue cocktails, cups, napkins, and Pink and Blue themed party games. You can even divide your guests into TEAM PINK and TEAM BLUE and have the two teams compete with prizes to the winner.
If you are looking for something a little more exciting and you love sports, try Touchdowns or Tutus. If you love nature, incorporate bees into your party theme and keep guests wondering What Will It Bee?. Planning a brunch, proudly display your Mustaches or Lipstick alongside those mimosas. Be different. Be unique. Choose a theme that suits you and your partner and incorporate it into every part of your memorable party!
When is the Right Date?
To give your guests enough time to plan and prepare, try to send the invitations at least 4 to 6 weeks in advance. If you are worried about paper waste, or you do not know everyone's address (I mean who sends mail via the post anymore anyway?!), you can always send electronic invitations via Facebook, Instagram, or email. Do not forget to include a brief introduction to the concept of a gender reveal party in the invitation – some people may not know what a gender reveal party entails. That brief explanation could help a lot.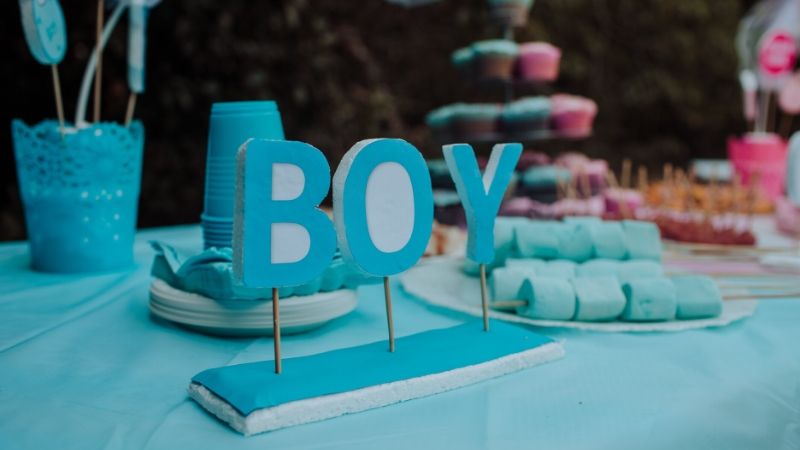 Now the Good Stuff – The Actual Reveal Itself!
When you are planning your gender reveal party, the essential part is… drumroll please… the actual reveal! With so many options to choose from now-a-days, you truly cannot go wrong with any reveal you decide. Here are some of our favorites:
Balloon Pop – Choose a family member or friend you trust. Let them in on the secret. Once they know the sex of the baby, have them fill an opaque balloon with either pink or blue confetti or glitter. Sit on it or pop it with a safety pin; however, you decide to reveal the big moment, once you pop that balloon, you will be presented with a flurry of color-coordinated confetti or glitter.
Balloon Box – This reveal takes its inspiration from a releasing of doves. Fill a box with pink or blue helium-filled balloons. For the revealing moment, open the box and release the sex of your little angel to the heavens.
Gender Reveal Pinata – This gender reveal party inspiration is great because it gets all your loved ones involved! Fill a pinata with pink or blue candy and prizes. Let everyone have a swing at it and not only will each guest have a treat in the end, you will also be surprised when your little senor or senorita is revealed!
Gender Reveal Cake – A traditional method that kills two birds with one stone. No party is complete without a cake. A gender reveal party is no exception! Have your cake pull double duty as a focal point AND your reveal device.
Gender Reveal Confetti Cannons – A fun way to reveal if you are having a little prince or princess with a little excitement and pop! As the parents-to-be, you can be the only ones with a cannon, or get your guests involved too. Using several cannons at once will create beautiful showing of color.
Gender Reveal Smoke Bombs – Increasing in popularity, smoke bombs produce a vibrant cloud of pink or blue smoke revealing the sex of your bundle of joy. When the smoke fills the air, it creates a beautiful backdrop for everlasting photos you can enjoy and post on social media for everyone far and wide to see.
Gender Reveal Baseballs or Golf Balls – For all the sports fans, there is a perfect way to hit that homerun or sink that hole in one all while revealing the sex of your little star. You can even get the whole family involved! Once the ball is hit, an explosion of pink or blue powder will fill the air.
Leave a Lasting Impression
Sticking with your chosen theme, coordinate a party favor and send your guests with a little keepsake. Make your own popcorn and attach a card that says, "Ready to Pop!" Reach out to your local baker, or get together with your family, and create themed cookies for your guests to bring home. Candles are always a good party favor, or even a personalized container with candy reminding everyone how 'sweet' they are for joining in this momentous celebration. For a more intimate and personal touch, send out thank you notes to everyone who attended. Maybe even invite them (or have them save the date) to your baby shower.
The most important thing to remember when it comes to your gender reveal party – it should be FUN. Try not to stress or overthink it. Simply enjoy the moment, enjoy the celebration, and enjoy this time before your new bundle of joy arrives.